Shop Convection Ovens
Convection Ovens
Choose a versatile Vulcan convection oven to cook foods quickly and reduce the shrinkage of your products.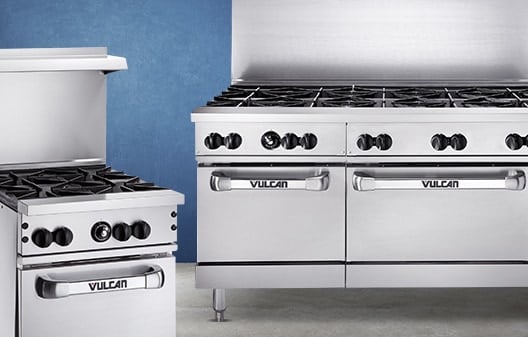 Shop Gas Ranges
Gas Ranges
Vulcan commercial gas ranges provide you with quick heat up and recovery, allowing you to prepare your dishes more efficiently.
Shop Gas Fryers
Gas Fryers
Powerful Vulcan gas fryers heat up quickly and reach the high temperatures needed to fry foods to perfection.
Shop Gas Griddles
Gas Griddles
Essential for preparing menu favorites like burgers and breakfast foods, Vulcan gas griddles offer superior performance.
Shop Charbroilers
Charbroilers
Use a Vulcan charbroiler when you want to add tantalizing grill marks to your meats and vegetables.
Shop Vulcan Parts
Vulcan Parts
We carry a variety of Vulcan parts compatible with your Vulcan commercial cooking equipment.
Shop All Categories
Vulcan Restaurant Equipment Gets It Done To Perfection
Founded in 1865, Vulcan is one of the world's largest restaurant equipment manufacturers. They began as the Hart Manufacturing Company, a small operation in Louisville, Kentucky that made cooking stoves. Throughout the early 1900s, the company began to grow into the business you know today, acquiring the name Vulcan and its commercial lines in 1949.Vulcan is known for its high-quality, energy efficient products. Designed for commercial use, Vulcan equipment is perfect for restaurants, diners, bistros, and cafeterias that need a reliable stove in order to serve their customers. Associated with Vulcan Food Equipment Group, Vulcan is a division of ITW Food Equipment Group.