Kitchen Prep Lists for Restaurants
Last updated on 7/14/2021
Behind the scenes in any restaurant, there's kitchen prep work that has to be performed before the dining room opens its doors for service. During the quiet morning hours, the kitchen staff diligently washes produce, prepares ingredients, and cooks many food items ahead of time. In order to complete all tasks on time and to prep the right quantities, commercial kitchens use a production sheet called a kitchen prep list. We'll explain what a prep list is, why you need one, and how to make your own.
Already familiar with prep sheets? Download our free prep list template:
Click below to learn about kitchen prep lists:
What Is Kitchen Prep?
Kitchen prep, sometimes called mise en place, encompasses all the kitchen tasks that must be completed before service begins. The reason that most menu items can be prepared in ten minutes or less is because the prep work has been performed ahead of time. For example, if a guest orders a Southwest omelette with peppers, onions, and ham, it would take too long for the line cook to dice the ingredients on the spot. Prep cooks do the dicing and chopping in advance so the line cook only has to worry about cracking the eggs. There are many types of chefs who work together to run a commercial kitchen, but most kitchen prep is performed by prep cooks.
What Is a Kitchen Prep List?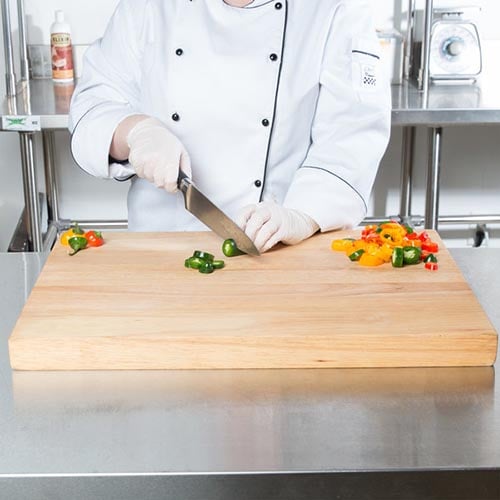 A kitchen prep sheet is a printed guide with all the prep tasks that need to be performed in a commercial kitchen on a particular day. You might hear it called a restaurant prep list, a production sheet, or a par sheet. No matter the name, the prep sheet is what the kitchen staff uses to make sure they are prepping the right ingredients.
Without a kitchen prep list, no cook would know exactly how many portions of broccoli to weigh out or how many fresh steaks to cut. The prep sheet is the guide that outlines which foods to prepare, in what quantities, for a particular day of service.
What Is a Par Level?
A par level is the optimal amount of any ingredient or food item that you need on hand to meet the demand for a specific day and shift. For example, if you normally sell 25 porterhouse steaks on a Friday night service, the par level for that shift should be 25. Par levels have to be set for every single ingredient and prepared food item in your kitchen. Cut too many steaks and you may not use them all before their freshness fades. Cut too few and you may miss out on potential sales for that evening.
Kitchen Prep List Example
Prep sheets usually feature an easy-to-read grid-style format. The first column contains a list of the food items or ingredients that must be prepped. The next column contains the par level for each item. After that, there are spaces to record the quantity on hand, the quantity prepped, and the total quantity.
This example shows a common format for prep sheets:
---
How to Use a Kitchen Prep List
To read a kitchen prep list properly, you must subtract the quantity-on-hand from the par level. For example, if you need 3 full-size food pans of salad greens for service, and you find 1 pan of fresh lettuce from the previous shift, you only need to prep 2 more pans.
Follow these steps to perform food prep using a production sheet:
Locate the item that needs to be prepped in the first column of the sheet. Some sheets are divided by station to make it easier.
Next, identify the par level for the ingredient being prepped.
Before beginning any prep work, check storage to determine if there is any prepped food leftover from the previous shift.
Make sure that any prepped food is acceptable to serve and well within the expiration date. Discard anything that looks wilted, soggy, or otherwise visually unappealing.
If there is prepped food that you can use, record the quantity of the item on the sheet.
Subtract the quantity of prepped food from the par level.
Once you determine the balance, you are now ready to prep.
When the task is complete, record the quantity of food prepped and sign your initials on the sheet.
Add a food label to every food item that records the date, time, and the name of the cook who performed the prep.
Place the prepped food in the correct storage location (cold storage, cook line, salad prep) and move onto prepping the next item.
Back to Top
---
How to Make a Kitchen Prep List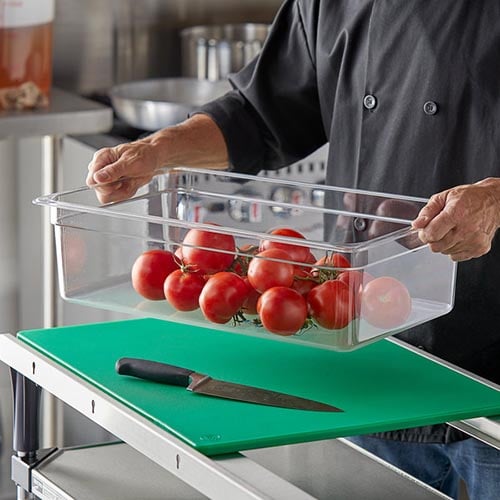 There are two components to building a successful prep list - kitchen prep and accurate par levels. The prep tasks define what needs to be done, while the par levels tell you how much needs to be done.
Create a List of Prep Tasks
If you're creating a prep sheet for the first time, start by analyzing your menu items. You need to determine which steps and ingredients can be handled ahead of time vs. what must be cooked to order. For example, if you divide up the steps for an order of hot wings, it would look something like this:
Prep Work
Thaw frozen wings
Portion out wings in groups of 6 or 12
Prepare all hot wing sauces
Wash celery and cut into sticks
Prepare all dipping sauces
Cooked to Order
Drop wings in the fryer
Toss with wing sauce
Plate the wings
Add celery sticks and ramekin of dipping sauce
By dividing up the steps, you know what prep tasks need to go on your production sheet. This must be performed for every dish on your menu, including appetizers, salads, and desserts. Don't forget about the garnishes, toppings, and sauces.
Many prep tasks simply require that ingredients are portioned out correctly and placed on the line in a refrigerated chef base. It saves precious time for the line cook when the necessary ingredients are stored nearby.
How To Set Par Levels
Setting the right par levels for your kitchen is an important part of keeping your food cost in check and reducing your food waste. So how do you know what par levels should be? If you're opening a new restaurant, it will take 3 to 4 few weeks to determine the right par levels. Start with an estimated quantity for each food item and keep track of your sales data until you can observe trends in what your customers are ordering.
If no one orders the creme brulee dessert on Wednesdays, you need to lower your par level for that day. On the other hand, if you notice that you have to "86" the daily soup on most Sundays, the par level needs to be increased. Creating accurate par levels takes time and requires keen observation. You also need to be flexible because par levels will need to be adjusted throughout the year to account for periods of slow sales.
Back to Top
---
Benefits of a Daily Prep Sheet
Kitchen prep sheets are vital to the success of any successful commercial kitchen. These are just some of the benefits that a prep list provides:
Reduces Food Waste - Accurate par levels prevent your staff from overprepping and contributing to food waste.


Helps You Meet Demand - No one wants to run out of a popular item in the middle of a shift. Prep sheets help you meet demand so you never miss a sale.


Speeds Up Prep Time - An organized prep sheet helps prep cooks to stay on task.


Reduces Wait Times for Guests - When the right kitchen tasks are completed ahead of time, your line cooks can prepare dishes more quickly and reduce wait times for your guests.
Successful kitchen prep starts with an organized prep sheet. The more kitchen tasks that can be performed ahead of time, the more streamlined your kicthen operation will be.