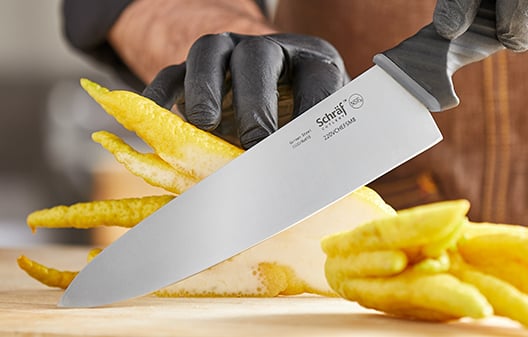 Shop Chef Knives
Chef Knives
Equip your kitchen staff to dice, chop, and fillet foods safely and efficiently with our broad selection of professional chef knives sold at wholesale prices.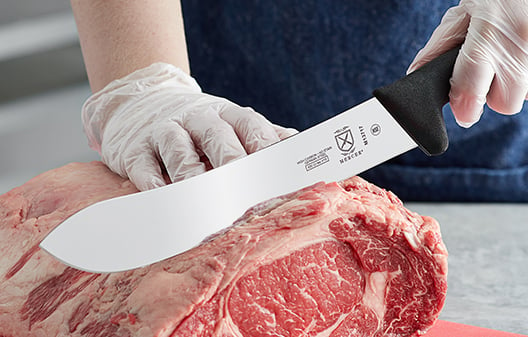 Shop Butcher Knives
Butcher Knives
Commercial-grade butcher knives slice through tough cuts of meat in high-volume butcher shops, delis, and meat packing facilities.
Shop Boning & Fillet Knives
Boning & Fillet Knives
Debone and slice fish without wasting product at your seafood restaurant or fish processing facility with commercial boning and fillet knives.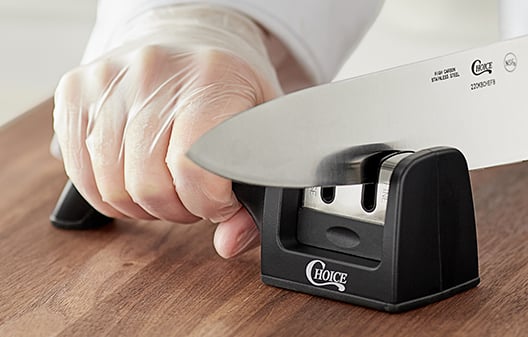 Shop Knife Sharpeners
Knife Sharpeners
Keep your cutlery sharp and safe to use with our commercial knife sharpening tools such as sharpening stones, steels, and electric/manual sharpeners.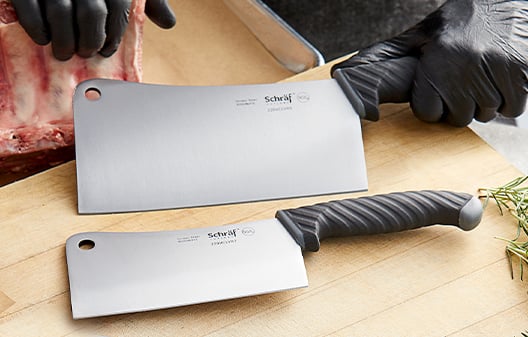 Shop Cleavers
Cleavers
We provide cleavers designed for niche applications in an array of sizes that break down tendons, bones, and sturdy root vegetables with ease.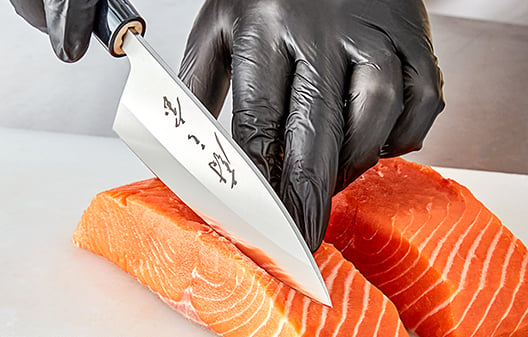 Shop Asian Cutlery
Asian Cutlery
Our selection of Asian cutlery includes gyuto, Santoku, sashimi, and usuba knives, so you can execute Asian cuisine's precise knife work.
Slice, Dice, and Chop Various Foods and Ingredients with the Proper Commercial Cutlery
If you're looking for restaurant cutlery for your foodservice establishment, then you've come to the right place. We carry a range of knife styles, so you're sure to find the products you need for your specific prep tasks. Also, by purchasing the proper commercial cutlery and sharpening tools, your employees can continue to chop, slice, and dice various foods safely and efficiently.
Read more
Our selection of restaurant cutlery includes knives with different blade lengths and edge styles to handle anything from delicate fruits and crisp vegetables to tough meats and crusty breads. You'll also find shears with multiple tiny blades that can perfectly chop fresh herbs. We even offer cleavers and butcher knives for heavy-duty prep tasks in your meat or butcher shop.
Don't forget to also stock up on safety items to use with your restaurant cutlery. Sanitizing systems help prevent cross-contamination in your kitchen, while knife bags, rolls, and cases ensure no sharp blades are exposed during storage and transport. You can also purchase cut resistant food safety gloves for your employees to wear when cutting poultry, slicing produce, or deboning fish.
Whether you operate a restaurant, bakery, butcher shop, dining hall, or cafe, we have the commercial cutlery you need. No matter what knives you purchase, you can rest assured that they're made from high-quality materials for long-lasting durability. Additionally, most of the commercial cutlery we carry feature ergonomically-designed handles for comfort as well as non-slip grips for safety. For other great supplies for your kitchen, be sure to check out our
kitchen spoons
,
custom steak knives
, and
meat tenderizers
.