Restaurant Equipment Maintenance
Last updated on 5/11/2020
You can extend the life of your commercial equipment and reduce service calls by performing preventative maintenance on a daily, weekly, and monthly basis. You'll also find that keeping up with a regular schedule to remove grease and buildup from your equipment will make cleaning and sanitizing your kitchen much easier. We always advise that you follow your manufacturer's specific guidelines for maintenance and cleaning, but we've created a checklist to help keep you on track.
Refrigerator Maintenance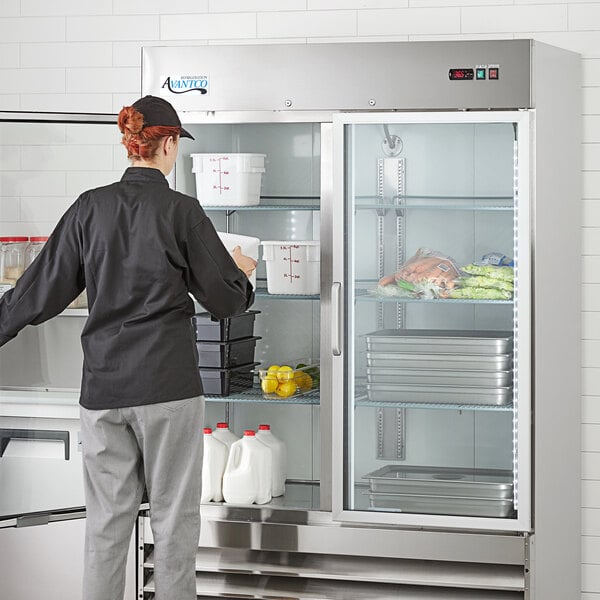 You already know that your reach-in refrigeration units are essential to the daily operations of your kitchen. If you takes steps to properly maintain your commercial refrigerator, you can ensure many years of uninterrupted use. Make sure you review and follow all manufacturer guidelines on cleaning and maintenance. You may need to consult a certified professional to perform some of the more technical tasks below:
Shop All Refrigerators
Daily
Make sure temperature reading is at 40 degrees Fahrenheit or below
Wipe down shelves and interiors
Wipe down gasket with approved cleaner
Monthly
Inspect gaskets for any tears
Clean condenser and evaporator coils
Clean fan blades
Inspect compressor operation
Quarterly
---
Griddle and Range Top Maintenance
Cleaning your flat top griddle and charbroiler on a daily basis not only keeps grease buildup from getting out of control, but it also ensures that your foods taste great. Flavor transfer from stale grease is a quick way to ruin your dishes. It's also a fire hazard that can be easily prevented with daily maintenance. As always, follow the manufacturer guidelines in your owner's manual before performing griddle maintenance.
Shop All Commercal Ranges
Daily
Monthly
Inspect and calibrate thermostat
Quarterly
Perform a visual inspection of the unit
Check cooking surface for cracks or signs of stress
Inspect and replace worn knobs or controls
---
Ice Machine Maintenance
Neglecting to clean and sanitize your ice machine regularly can lead to a failed health inspection. It's not uncommon for operators to forget that ice is considered a food, and any surface, bin, or scoop that touches ice should be treated as a food-contact surface. Before following our tips for cleaning, make sure you are using approved chemicals:
Shop All Ice Machines
Daily
Check temperature settings
Make sure ice maker is producing ice
Check drain pipes to make sure they are free of debris
Weekly
Clean ice machine exterior
Semi-Annually
Clean and sanitize interior bin
Clean condenser
Replace water filtration cartridges
Clean or replace air filters
---
Fryer Maintenance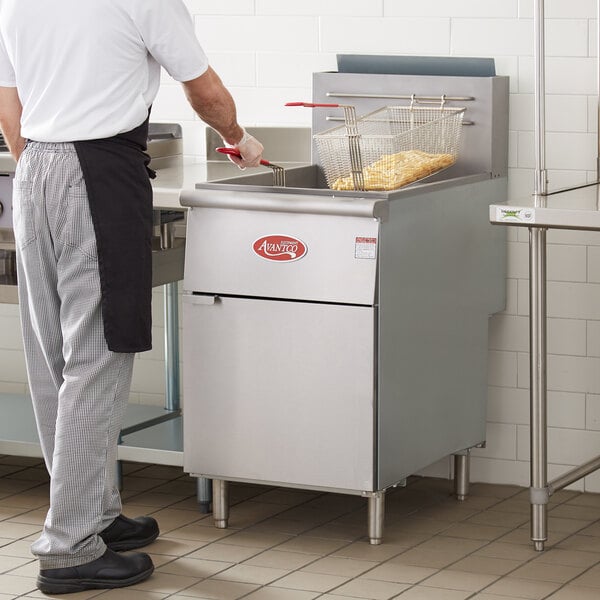 Your deep fryer is a perfect example of how regular equipment maintenance can actually improve your product. It's essential to develop an oil filtration and replacement schedule so that your fried foods taste fresh and crispy with no flavor transfer. Our guidelines are a general recommendation and could vary depending on how often you use your fryer and the amount of product you sell each day:
Shop All Deep Fryers
Daily
Wipe down fryer exterior
Clean fryer baskets
Filter the oil
Weekly
Monthly
Pull fryer out from the wall and clean surrounding area
Inspect pilot light
Check o-rings and drain pain connection
Clean blower and air vents
Quarterly
---
Walk-In Maintenance
Turning off the interior lights of your walk-in coolers and freezers is one of the simplest things you can do to save energy and keep your unit from overworking the compressor. When the lights are left on overnight, they heat up the interior and the unit must compensate for the rising temperature. It's also important not to overfill your walk-in and always keep the aisles clear. Consult your equipment manual for specific maintenance protocols but use the following steps as a guideline:
Shop All Walk-In Refrigerators
Daily
Turn off all interior lights at closing
Check temperature settings
Make sure aisles are clear and cooler isn't overloaded
Sweep floors and clean up any spills immediately
Weekly
Wipe down shelves and interiors
Inspect and clean gaskets with an approved cleaner
Check doors and hinges to make sure they are properly aligned
Inspect door sweep for tears
Quarterly
Inspect wall and door panels for loose caulking
Clean condenser and evaporator coils
Clean fan blades
Check refrigerant levels
Inspect compressor operation
Calibrate thermometers
Yearly
Clean and inspect freezer drain lines
Hire electrician to inspect electrical connections
---
Combi Oven Maintenance
Because your combi oven relies on steam to cook foods, you'll need to perform regular deliming maintenance to prevent scale buildup. Thankfully, many combi ovens include an automatic cleaning feature that can be performed with the touch of a button. When your combi program alerts you that it's time for a cleaning cycle, you should begin one as soon as possible. Your equipment manual will contain more detailed information on the types of cleaning cycles your combi oven requires.
Shop All Combination Ovens
Daily
Clean racks and interiors
Remove and clean drip tray
Clean and sanitize food probe
Wipe down door gasket with approved cleaner
Monthly
Delime the steam generator
Remove and clean air filters
Inspect drain lines
Check door gasket for tears
Inspect door hinges for signs of wear
Annually
Test and recalibrate thermostat
---
Convection Oven Maintenance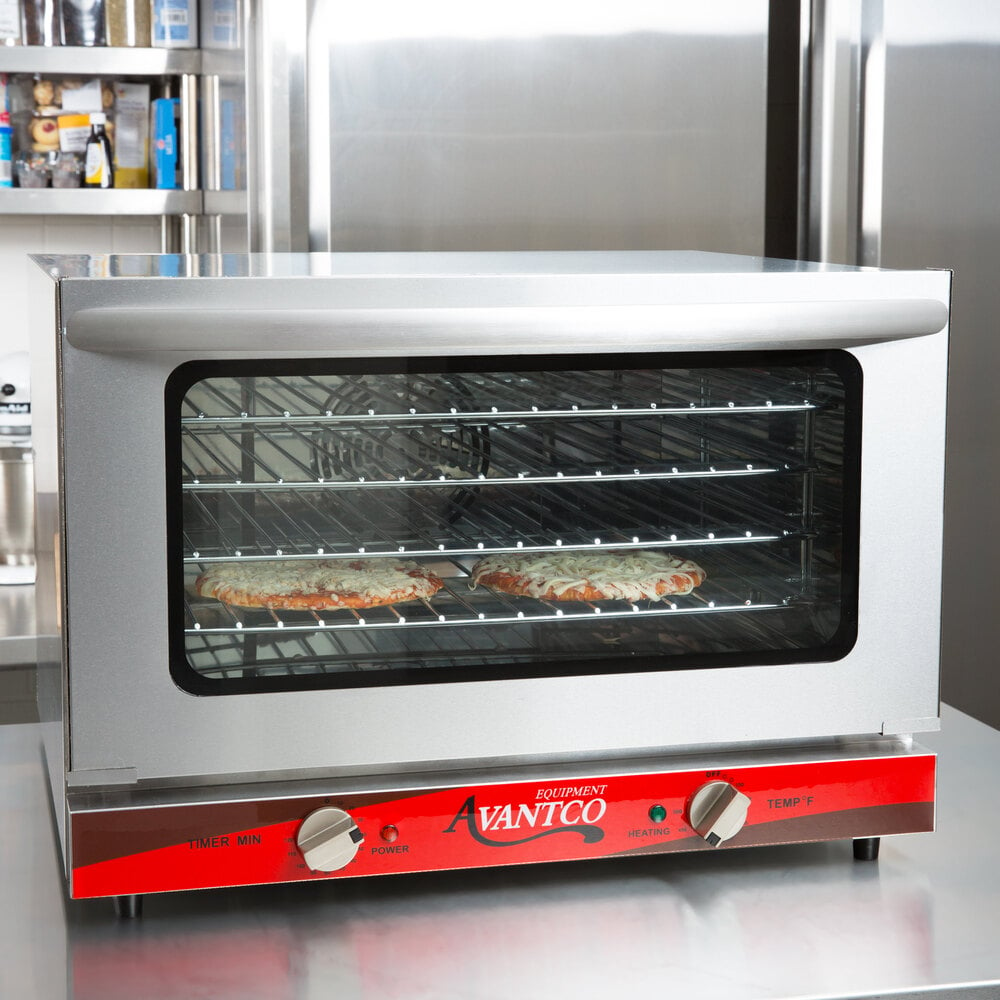 Convection ovens require little in the way of maintenance but benefit greatly from a regular cleaning schedule. Removing grease on a daily basis prevents buildup from becoming a problem. Make sure to use approved cleaners for the interior and exterior of the oven and follow your manual's cleaning instructions.
Shop All Convection Ovens
Daily
Clean racks and interiors
Remove and clean drip tray
Wipe down door gasket with approved cleaner
Monthly
Clean fan blade and housing
Inspect and clean air intake vent
Inspect and clean flue
Check door gasket for tears
Inspect door hinges for signs of wear
Annually
Test and recalibrate thermostat
---
Dishmachine Maintenance
Rinsing food scraps from soiled dishes prior to placing them in the dishmachine will help to keep the interior of your unit clean and prevent greasy residue from clinging to your clean dishes. Daily cleaning will be much easier and you won't need to empty the scrap basket or filter as often. Another way to prevent bacteria growth inside your dishmachine is to leave it open to air dry every night.
Shop All Dishwashers
Daily
Empty scrap basket
Check detergent, sanitizer, and rinse aid levels
Inspect rinse arm nozzles for clogs
Leave dishwasher open to air dry overnight
Weekly
Test water temperature and rinse pressure
Delime interior
Inspect drain lines to make sure they are clear
Annually
Hire a certified technician to do a full inspection
---
Stand Mixer Maintenance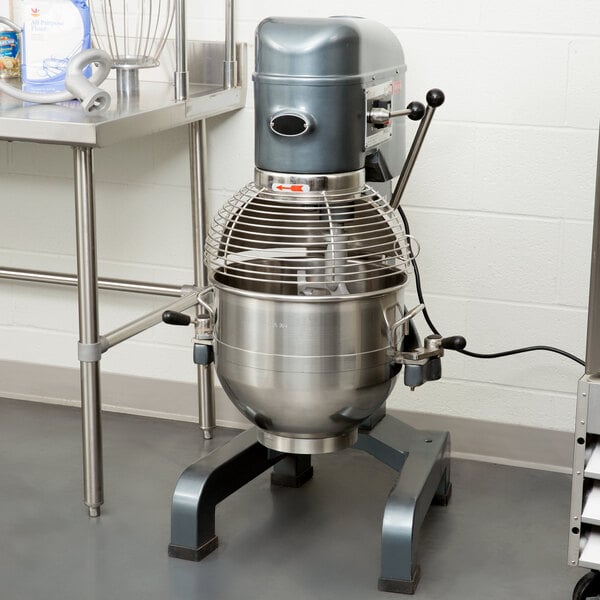 To avoid possible injuries, always make sure to unplug your mixer before daily cleaning. Pay special attention to the areas where batter will often splatter and harden, like the attachment hub and gear shaft. Hand dry or air dry any removable parts before reassembling the mixer.
Shop All Stand Mixers
Daily
Clean and dry mixer attachments, shield, and bowl
Wipe down shaft, motor head, and attachment hub
Remove any debris from air vents
Wipe down mixer body and dry with a soft towel
Monthly
Check lubricants and apply as needed
---
Soda Dispenser Maintenance
Daily cleaning is essential for your soda and beverage dispensers. Syrup that collects in the nozzles or soda lines can become a breeding ground for mold and bacteria. To encourage daily cleaning, make sure to train your staff to disassemble the machine nozzles. It's also helpful to post step-by-step instructions near your machines.
Shop All Soda Dispensers
Daily
Remove nozzles for cleaning and sanitizing
Remove and clean drip tray
Clean underside of dispensing valves
Empty all ice from drop-in ice bin
Clean and sanitize bin and ice chute
Weekly
Disconnect syrup lines and soak connectors
Let connectors air dry before reconnecting
Monthly
Empty ice from top loading ice bin
Clean and sanitize bin and ice chute
Clean condenser
Check and replace water filters
---
Use this checklist as a general guide to schedule preventative maintenance, but always follow the guidelines set forth by the manufacturer. Consult the manual that came with your equipment for specific cleaning instructions and safety warnings. Also, remember that some maintenance must be performed by a certified technician, especially if it involves electrical components. Attempting to perform technical repairs on your own could void your warranty.