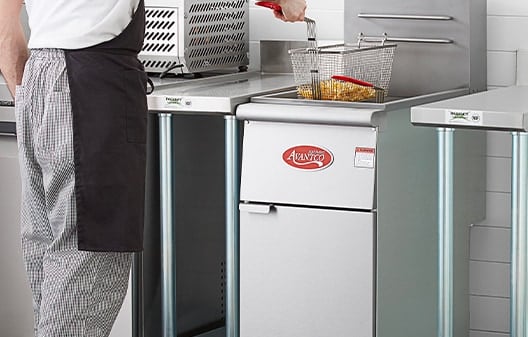 Shop Commercial Gas Fryers
Commercial Gas Fryers
Gas fryers heat up oil quickly, making food prep efficient. Different deep fryer capacities are available to meet low- to high-volume needs.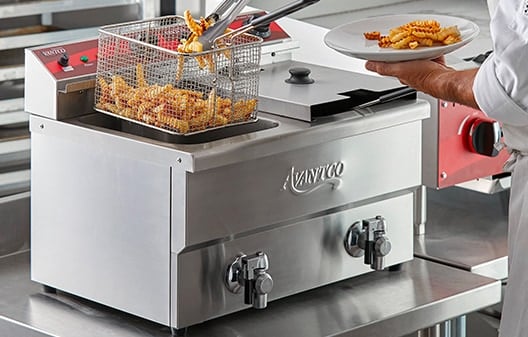 Shop Commercial Electric Fryers
Commercial Electric Fryers
Electric commercial deep fryers offer efficient heating and fast recovery between frying cycles. Choose from countertop or floor fryers.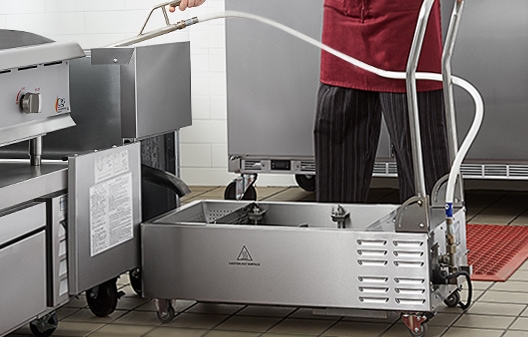 Shop Fryer Oil Filtration Equipment and Supplies
Top Products

Use a Commercial Fryer at Your Restaurant to Make Appetizers, Entrees, & More
Commercial deep fryers can fry up many different delicious appetizers, entrees, and sides, like french fries, chicken wings, fried fish, and much more. We carry a large selection of commercial fryers, so you can find an option for your business whether you own a large restaurant or sports bar or a compact food truck or concession stand. Choose from fryers of different capacities, configurations, and sizes to find the best model for your kitchen's available space.
Read more
Our selection of commercial deep fryers includes electric and gas models. Compared to their gas counterparts, electric fryers take longer to heat up oil, but once they're up to temperature, they recover more quickly between frying cycles. Electric models also have heating elements inside the oil, which increases efficiency, and they're also more portable since they're not hooked up to a gas line. Gas fryers, on the other hand, offer faster heat up times and can typically reach higher oil temperatures.
Restaurant fryers are also available in either counter-top or floor models. If you operate a smaller kitchen space and have low- to medium-volume demands, then a compact counter-top unit is the perfect solution for you. Owners of larger restaurants and hotels that need to meet high-volume demands will benefit from a floor unit. You can also find split pot fryers and models with built-in filtration units in both gas and electric models.
We carry specialty fryers for cooking specific foods or meeting certain installation requirements, as well. If you're frying up signature concession foods, then a funnel cake or donut fryer may be the most efficient option. If your establishment serves classic comfort food, find the perfect chicken fryer for your needs. For kitchens that don't have enough space for a hood system, then a ventless fryer is a safe choice. Finally, you'll find drop-in fryers that can be installed directly into your counter-tops.
Así sea que operes un camión de comida o una cadena de comida rápida, una freidora para restaurante es una adición perfecta a tu cocina para ayudarte a preparar los artículos más vendidos del menú. Sirve cualquier cosa, desde sabrosas papas fritas hasta dulces churros con una freidora comercial que pueda aguantar todas las demandas de tu día a día. Elige desde un modelo compacto para mesa hasta unidades de piso con múltiples ollas para encontrar la mejor opción para tu negocio. Ofrece a tus clientes una selección de sus frituras favoritas con una freidora de restaurante confiable.
What Is a Commercial Deep Fryer?
A commercial deep fryer is a kitchen appliance designed to heat large quantities of cooking oil for deep frying large quantities of foods such as french fries, funnel cakes, and mozzarella sticks. While you can use a fryer at home, deep fryers are most commonly found in restaurants and commercial kitchens.
How Much Does a Commercial Deep Fryer Cost?
While a commercial deep fryer may cost more than a residential fryer, they are designed to cook large quantities of food at one time, making them an efficient and cost-effective choice for your high-volume restaurant. We carry deep fryers in a wide range of prices, so you can find a deep fryer at a price that meets your needs.
How Do You Use a Commercial Deep Fryer?
How you use your commercial deep fryer depends on the specific model you have and also what kind of foods you're making. However, the basic method that is common among all types of deep fryers is to heat the oil to the desired temperature, lower your battered food into the basket that's submerged in the hot oil, and then raise the basket once the batter reaches a golden brown color. It is suggested that you drain the oil off your food on a platter lined with paper towels before serving so that customers don't receive excess grease on their plates.
How to Clean a Commercial Deep Fryer
Commercial deep fryers will need to be cleaned periodically in order to keep your fried foods tasting great. Sediment should be removed daily, and the oil should be completely drained as needed, depending on how frequently you use your fryer. Cooking oil needs to be cooled down before it can be drained. Once the oil has been emptied, you can clean out the inside of your fryer with soapy hot water. Use a dishrag to loosen any sediment that may have stuck to the corners. Finally, drain the soapy water, refill with fresh hot water, add ½ cup white vinegar, and drain again. Be sure to let your fryer dry completely before reintroducing cooking oil. When cleaning your fryer, be sure to also
clean and filter your cooking oil
. To
extend the life of your cooking oil
between cleanings, try using a fryer oil stabilizer.
A commercial deep fryer is ideal for any fast food restaurant, diner, or food truck that serves fried food. With a sturdy construction, these restaurant fryers are fit for heavy duty use. We also carry countertop and flood models, so you can select the optimal commercial fryer for your restaurant. You may also want to read additional resources such as our
commercial fryer review guide
and browse our selections of
tongs
and
plastic food baskets
for meal service.