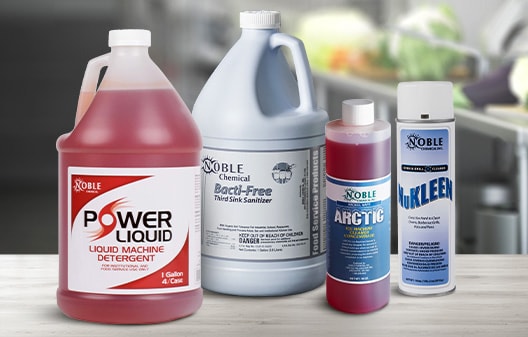 Shop Food Service Chemicals
Food Service Chemicals
We carry foodservice chemicals for cleaning, degreasing, sanitizing, and lubricating your commercial kitchen equipment.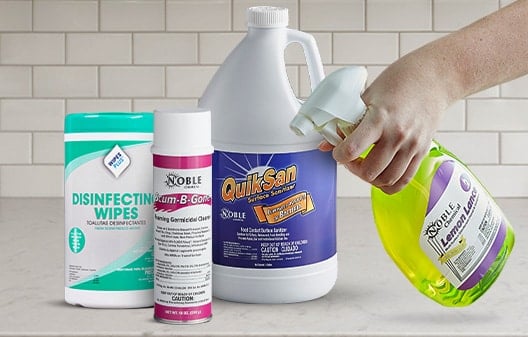 Shop Commercial Sanitizers
Commercial Sanitizers
Whether you're sanitizing surfaces or cleaning floors, our cleaning chemicals promote a hygienic workplace.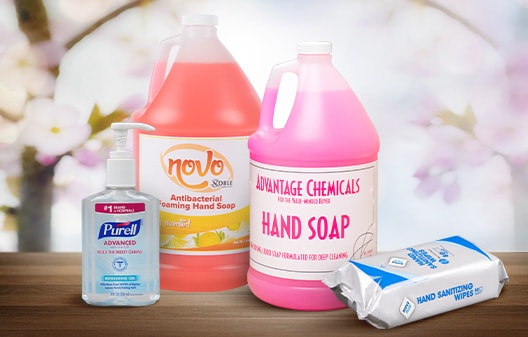 Shop Hand Soap and Sanitizer
Hand Soap and Sanitizer
Maintain your handwashing sinks and sanitizing stations with our commercial hand soap and sanitizer.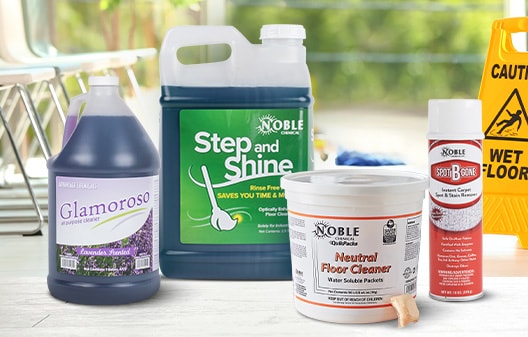 Shop Floor Care Chemicals
Floor Care Chemicals
An effective floor care program for you restaurant begins with choosing the right floor care chemicals.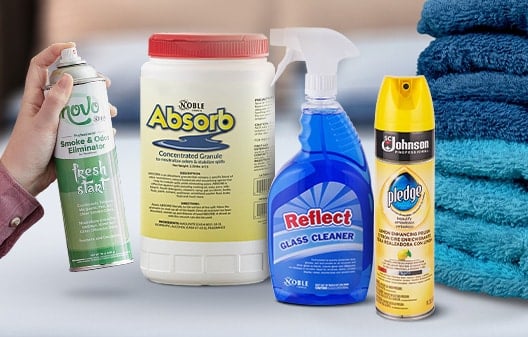 Shop Housekeeping Chemicals
Housekeeping Chemicals
Our housekeeping chemicals can handle the toughest cleaning jobs so you can focus on guest satisfaction.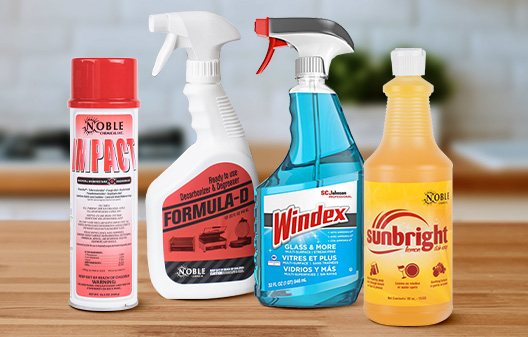 Shop Ready-to-Use Liquid Chemicals
Stock Up on Industrial Cleaning Chemicals for Your Food Service or Hospitality Operation
Whether you operate a restaurant, hotel, school, or retirement home, we carry a large selection of commercial cleaning chemicals that are crucial to maintaining a sanitary environment. For your heavy-duty tasks, we have numerous options, including floor care chemicals for your rugs and hard floors. We also have industrial cleaning chemicals for all of your surfaces, glasses, and dishware to keep a safe environment for food contact and to reduce cross-contamination. If you need to clean specific pieces of equipment, you can choose from our large selection of foodservice chemicals for your coffee and espresso machines, cutting boards, fryers, and more.
Read more
If you need industrial cleaning chemicals for your food service or hospitality operation, we carry a diverse selection for your needs. We have a wide range of housekeeping chemicals, including cleaning solutions to wash employee uniforms or to polish hotel furniture. To make your cleaning processes safer and more efficient, we carry ready-to-use chemicals to reduce prep time before cleaning. Additionally, we have chemical pumps, so you can store and dispense your commercial cleaning chemicals to eliminate messes and prevent employees' hands from coming in direct contact with harsh chemicals.
Our industrial cleaning chemicals will cover every cleaning need in your business from scrubbing grease buildup off of your range to mopping your floors. For perfectly-portioned solutions, consider our individual use packets, and try a large tub of liquid or powder cleaner for larger, frequent jobs. We offer deodorizers, disinfectants, dishwashing liquids, and other cleansers, so your staff has everything they need to keep your facility in premium condition. For more cleaning supplies, be sure to also check out our
mop buckets
,
housekeeping carts
, and
janitor carts
!