Trash Bag Thickness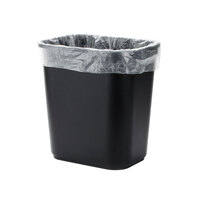 Resin is the basic raw material used in manufacturing trash can liners. The two basic types of resins utilized in trash can liner manufacturing are high density and low density.
High Density Can Liners: Great for paper and lightweight trash; tears easier if punctured.

Excellent choice for offices or bathrooms, as long as no sharp or irregularly-shaped objects are being discarded.
Lighter construction means lower freight, storage, and warehousing costs.
Superior vapor and moisture protection; USDA and FDA approved for food use to help contain unpleasant odors.
Temperature-resistant from -40 to 212 degrees Fahrenheit.

Low Density Can Liners: Great for heavy, wet trash; provide exceptional resistance against puncturing and tearing.

Excellent choice for kitchens, yard waste and other trash with sharp, jagged edges.
Superior stretch properties make for a great multi-purpose can liner.

Our Lavex Industrial can liners are contractor level low density can liners, offering the same benefits as low density liners with even greater thickness for yard waste, construction, and demolition use!

We offer a select number of
linear
low density liners which provide the same superior stretch benefits as standard low density liners. But because of differences in the manufacturing process, linear low density is able to achieve greater strength at a thinner gauge.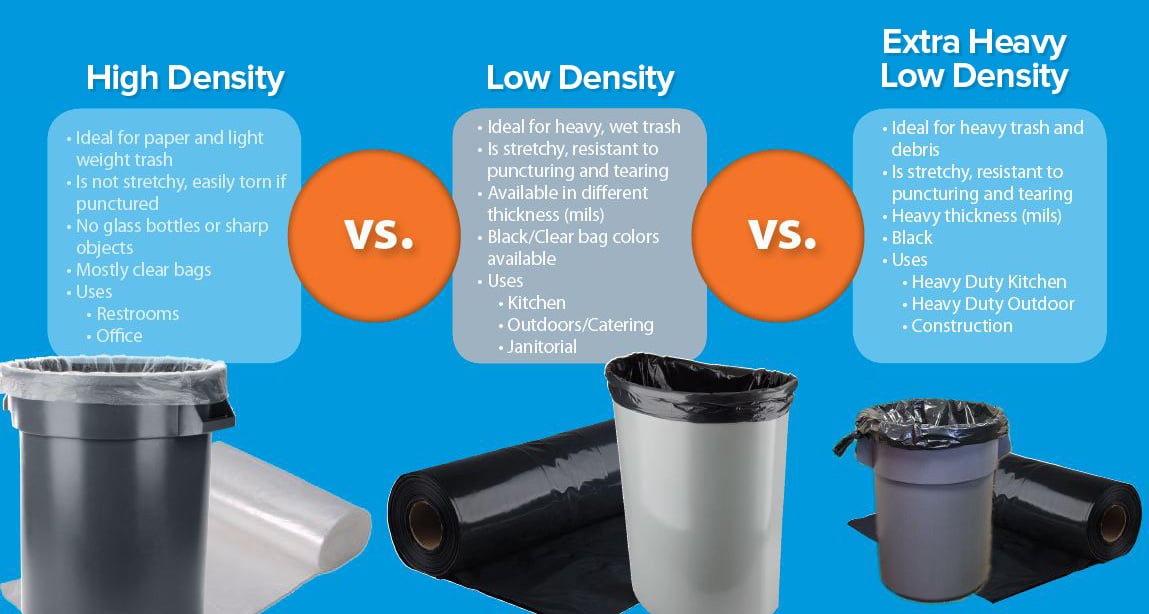 Types of Trash Bag Seals
Seal is a term used to describe the bottom of a trash can liner. Seals come in three types: star, flat, and gusset.
Star Seal: The most common seal in the industry, star seals are manufactured by folding the bottom of the trash can liner over several times and then sealing it. This virtually eliminates leaks, allowing the liner to conform to the shape of the trash can and distribute the refuse evenly around the bag.

---

Flat Seal: Manufactured by simply sealing the bottom edge so that no length of the can liner is sacrificed, flat seals provide a generally leak-proof product. They do not, however, conform well to the waste receptacle and can be difficult to handle.

---

Gusset Seal: Manufactured with both sides of the bottom edge tucked in to form gussets, gusset seals are reinforced at the indented outer edges with four layers of film while the middle of the bag is sealed with two layers. This causes a tendency to leak with wet trash.
Recommended Liners
Low Density Liners
Lavex Industrial Bags are your source for super tough, extremely elastic, puncture-resistant trash bags, perfect for construction, landscaping, and large scrap disposal. Lavex Industrial Bags' superior value just can't be beat when compared to more expensive contractor bags found in stores.
Hercules Bags are your source for strong, durable, puncture-resistant trash bags, perfect for use in bars, kitchens, and at catered events. They're great for use in both inside and outside applications! Hercules Bags' superior value at an affordable price makes them the ideal choice for your business's everyday use.
Go green while saving green with Li'l Herc Repro trash bags. These low density garbage bags are made of recycled plastics and resins, offering a more stretchable option than their big brother, Hercules Bags, while maintaining superior resistance to puncturing and tearing. Li'l Herc Repro trash bags are the economical solution for garbage disposal at bars, kitchens, and catered events.
High Density Liners
Lavex Janitorial trash can liners / trash bags provide products with industry-leading strength. Their exclusive resin construction promotes puncture resistance, while their star sealed construction helps to eliminate messes and spills. With state-of-the-art technology and high-quality production, Lavex Janitorial has products which are great for a variety of venues.