Bar Decorating and Bar Design Ideas
Preparing to decorate and design a bar can be a very exciting and overwhelming process. With a million ideas and thoughts running through your head, it can be tough to narrow down the bar design that you want to accomplish. Whether you are opening a bar for the first time or simply redesigning your bar, we have outlined some bar design ideas and tips that you should take into consideration.
---
Restaurant Bar Design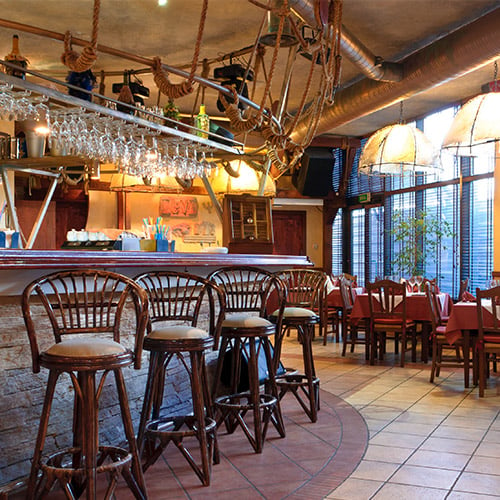 If you are designing a bar for a restaurant, the first thing you want to take into consideration is your environment and customer base. For example, an upscale restaurant and bar might not perform well in an environment where there is no customer interest or guests are not willing to spend a large amount of money at a bar. The best way to find out what people are interested in is to survey the neighborhood.
Once you understand your customers, you can begin designing your bar. Here are some things to take into consideration when designing a commercial bar:
Stay on brand. You want to design a bar that connects well with your restaurant atmosphere and ambiance. Make sure that you have a cohesive restaurant and bar area so that you create a memorable spot that your customers will enjoy.
Consider your kitchen area. If you are planning on serving bar food, it is important to consider where your bar will be located in correspondence to your kitchen. You will want to have your kitchen close enough to serve food hot and fast to your bar and tables.
Be cautious of your space. Confirm the amount of space you have to work with. You will also have to choose furniture that fits at your bar. Consider that you will probably want to install foot rails and service bar rails as well.
Ensure you have the proper bar height. The standard bar height is 42" and should be paired with a bar stool that is about 30" high. This will ensure your customers are comfortable with the seating at your bar.
---
Bar Decor
When choosing bar decor, select a theme that you want to achieve. You also want to make sure your decor matches your brand and food and beverages you are going to serve. Here are some tips for bar decorating:
Choose comfortable lighting. Lighting is very important in your bar area. Experiment with different lighting styles and dimmers. Bars are usually dimly lit, but if you are going to have a seating area you might want to install overhead lighting over tables.
Research music and bands to feature. Depending on whether you want to make a playlist for your bar or feature live music, you will want to consider what music genre will fit best with your theme and customer base.
Pick out wall art. Whether you are trying to achieve a sports theme, fun night club, or high-end bar, your decor will help to achieve your bar's theme.
Install fixtures and aesthetic decor. Aesthetic decor paired with wall art can help you establish a well-designed bar. More customers will be likely to take pictures and share them on social media with their friends if you have a visually appealing environment.
Decide on bar glassware. The type of glassware you buy will depend on the types of cocktails you are planning to serve. Moscow mules are usually served in a copper cup and beer and ciders are served in beer drinking glasses.
Select furniture and tabletops. If you have the budget you should invest in stain-resistant table tops and chairs for the inevitable spills that will happen in your bar area. Ensure that your furniture matches your bar's theme and will fit in the space that you have.
---
Sports Bar Design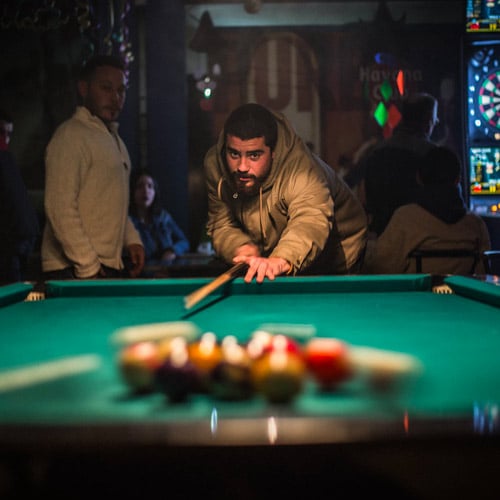 Decorating and designing for a sports bar should take into consideration all of the tips we listed above for restaurant bar design; but, it should include some additional activities and of course lots of flat screen TVs to watch the big game.
Sports Bar Activities
While friends and families are sure to gather at your sports bar to watch the game, it is also important to add some activities for those nights without a game or event. Below are some great activities to add to your sports bar:
Add some game room equipment such as air hockey, darts, or pool
Host a trivia or karaoke night
Invite live bands to perform at your bar
Additionally, decorate your bar with sports themed furniture and decor. This will help you show your pride for your town's favorite sports team and also attract fans to watch the game at your bar.
Once you pick a team, you can create drink specials and appetizers based off of your team's mascot or name. Try offering specials during big games or during happy hour and advertise these specials on social media. Another great marketing tactic is to invest in pay per view games that may not be offered at any other bar in your area. This will give you a competitive advantage over other bars in your area.
---
Outdoor Bar Ideas
Depending on the location, outdoor bars will gain the majority of their profit in the summer so it's important to maximize on this time. If you have enough space and room in your budget, you might want to invest in a roof for your bar area so in the event of rain, customers won't leave. Here are some tips for your outdoor bar:
If your outdoor bar has an indoor section, you want to ensure that you stay on brand throughout
Invest in outdoor chairs, tables, and umbrellas
Include outdoor bar activities such as cornhole or washers
Poolside Bar Design
Poolside bars are most common in hotels and beaches. Depending on if the pool is for adults only, you may include a swim-up bar. Swim-up bars usually include seating from the pool and allow guests to swim while sipping on their drinks. You can still offer a bar area beside the pool that allows customers to grab a drink. Here are some tips for your poolside bar:
Purchase outdoor bar furniture and water resistant chairs
Obtain plastic barware and cups
Offer tropical cocktails and non-alcoholic options for kids
---
Whether you are redecorating or opening a new bar, it is important to remember to create a brand for your bar and carry out the brand throughout the entire location. Create a design that is going to attract the customers in your area. Restaurant, sports, and outdoor bars all appeal to a different audience that depends substantially on your location. Creating a bar design that is best for you and your customer base will you help you run a successful bar.
Posted in:
Facility Design & Decor
|
Bars & Breweries
| By Laura Brent